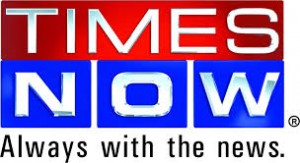 Times Now LIVE – Indian Hindi News Channel
Times Now is a 24-hour English news channel based in Mumbai and broadcast in India, Singapore and USA. 
The channel was launched in 2006 by Times Global Broadcasing Company Limited, a joint-venture of The Times Group (Bennett, Coleman & Co. Ltd.) and Reuters.
Times Now along with the other Times group channels (Zoom, ET Now and Movies Now) is distributed by Media Network and Distribution (India) Ltd (MNDIL), which is a joint venture between The Times group and Yogesh Radhakrishnan, a cable & satellite industry veteran, under the brand Prime Connect.
The editor-in-chief, Arnab Goswami is often criticized for his aggressive and confrontational attitude towards guests. He has drawn comparisons from Fox News' popular anchor, Bill O'Reilly.
Personalities
Arnab Goswami is the Editor-in-Chief and News anchor of Times Now.
Mahrukh Inayet is the news editor of Times Now.
Maroof Raza is consultant and strategic affairs expert on Times Now.