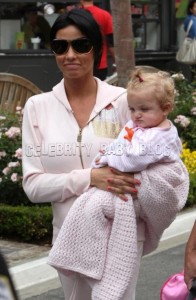 Singer Katie Price says that she is worried about the health of her daughter.
Bunny, who is Price's second daughter, was born two weeks premature in August and is the fifth child for Price.
Price admits that she is a bit paranoid when it comes to the health of her children because of her first child Harvey, who was born with a series of different problems, including autism, ADHD, and partial blindness, reports femalefirst.co.uk.
"I was a bit worried about her. I'm a bit paranoid with all of them because of Harvey. The health visitors are keeping an eye on her, but because she was premature, she seems to be a bit slow," Price told OK! magazine.
"Other babies her age are doing a lot more than her. I feel she's a bit vacant, but she was premature. They're going to see what she's like in six more weeks then assess it. I'm hoping she'll naturally catch up," she added.