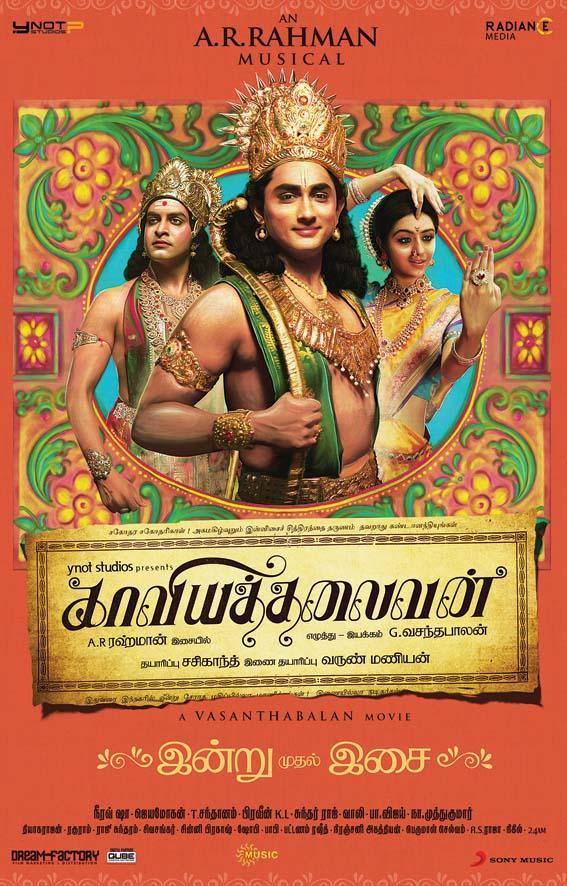 Kaaviya Thalaivan, which literally translates to Epic Leader in English, is a classic Tamil film directed by film-maker Vasanthabalan, that released today. It belongs to the genre of historical fiction, wherein the action takes place in the past; in the early 20th century in this case.
Siddharth, the protagonist, plays the role of Kaliyappa Bhaagavathar and Prithviraj, the antagonist, plays the role of Gomathi Nayagam Pillai. Both are potrayed as theatre artists in the film who are constantly competing against one another. Actor Nassar plays the role of a guru to them. Female presence to the film is brought by actress Vedhicka, whose role is inspired by the stage artist and singer K. B. Sundarambal.
The music for the film was composed by A.R. Rahman. The film was dubbed into Malayalam as Pradhi Nayagan and into Telugu as Kalaakaarudu and has been released simultaneously in all three languages.
More or less, the film did live up to its expectations. The big-budget flick, that took nearly two years to complete, is based in a freedom struggle setting. It is said to be inspired by the love story of K. B. Sundarambal and S Kitappa. Sundarambal is often referred to as the "Queen of Indian Stage" and was also a political activist.
Film-maker Vasanthabalan did extensive research for a period of 12 months before shooting the film. He has been said to have pioneered the new wave movement in Tamil cinema, through his earlier movies like "Veyil', "Angaadi Theru" and "Aravan". Kaaviya Thalaivan promises even better.
The film consists of about 14 songs that are difficult to disapprove of. A.R. Rahman's music will always be undoubtedly brilliant.
The chemistry between the actors is hard to ignore. Additionally, each actor will sport 25 different looks on an average; whereas Siddharth will sport around 40 looks.
So far, on day 1 itself, the multi-starrer has received a plethora of positive reviews and more are sure to come its way.
[youtube id="ia3dOZf8h2M" align="center" maxwidth="700″]