The only Bollywood movie releasing this week is Amir Khan's much awaited film, PK.
PK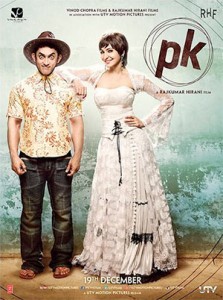 Directed by: Rajkumar Hirani
Produced by: Rajkumar Hirani, Vidhu Vinod Chopra, Siddharth Roy Kapur
Cast: Aamir Khan, Anushka Sharma, Sushant Singh Rajput, Boman Irani, Saurabh Shukla, Sanjay Dutt
Synopsis:
The film, named after its protagonist, Punmiya Kushal is a comedy. It is based in the city, with the protagonist asking innocent, child-like questions that bring a paradigm shift in the thinking of people who for years have been set in their own ways. This alternative point of view earns PK some friends and some enemies. The film is about life, laughter and saying goodbye. It explores human relationships from the unlikeliest of places.
[youtube id="82ZEDGPCkT8″ align="center" maxwidth="650″]