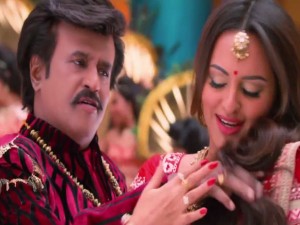 Superstar Rajinikanth Monday said romancing Sonakshi Sinha in his forthcoming Tamil action movie "Lingaa" was a challenge.
Rajinikanth said he didn't feel so nervous even on the first time he faced the camera as much as he did when asked to shoot duets with Sonakshi.
"The worst punishment god can give actors like me who are in their 60s is to sing duets. I found shooting duets with Sonakshi more challenging than doing stunts atop a moving train in the film," Rajinikanth told reporters here at the curtain-raiser of the film's Telugu version.
"Even in my first film, I didn't feel so nervous as much as I did when I had to romance her. I've known Sonakshi as a baby, and she has grown up together with my daughters," he said.
The superstar also felt the same for the film's second heroine, Anushka Shetty.
Rajinikanth heaped praises on make-up artist Bhanu and cinematographer Rathnavelu for making him look "young and beautiful" on screen.
"Lingaaa", directed by K.S. Ravi Kumar, is slated for release Friday.
Rajinikanth appreciated the director for completing a project of this scale in less than six months.
"Firstly, it's almost impossible to complete such a big project in about six months. It's big not because of the artistes or the budget, but because of the subject and the pre-independence era in which the story is set," he said.
"If there's something Ravi Kumar and I would like to give the young generation, it's this that even a big film can be completed in less than six months," he added.
Rajinikanth quickly clarified that his statement was not applicable to all films.
"I'm aware of the Telugu film 'Baahubali', which has been in the making for over a year. You can't compare it with 'Lingaa', because it needs time as it's being made in two parts. I also know the kind of hard work being put into that project," he said.
"The Telugu industry should be proud of Rajamouli, who will soon be known as the best technician in the country. I'll be happy to work with him if I get an opportunity," Rajinikanth added.
The superstar also reiterated that they didn't steal anyone's script to make "Lingaa", and that it was originally written by S. Ponkumaran.