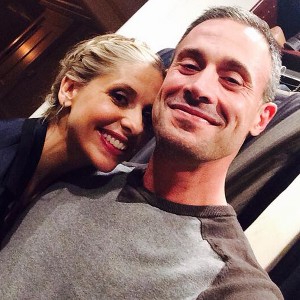 Freddie Prinze Jr.'s wife and actress Sarah Michelle Gellar says there's no need to worry about her husband, who recently underwent spinal surgery.
"You mean 'learning how to walk'? I can't even," Gellar replied when asked about Prinze's progress, reports people.com.
"I'm not joking, our mail woman – god bless her heart – was like, 'I prayed for you, Freddie, and it worked, you're walking,' " she added.
Talk of Prinze "learning to walk again" stems from his Nov 26 tweet playfully comparing the process to "learning jiu-jitsu".
"He's fine. He did have very serious surgery, there's no question, but his learning how to walk again has been greatly exaggerated," Gellar said.