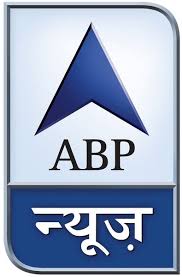 ABP News LIVE
 ABP News is an Indian news channel owned by ABP Group.[1] It was earlier known as STAR News and was owned by a joint venture betweenNews Corporation owned STAR TV/Fox International Channels.
 Popular Hindi news channel from MCCS, Star news has now been rebranded as ABP News from 1 June 2012.
 Star News made its debut in March 2004 with the promise off keeping each individual ahead and informed. With prompt reporting, insightful analysis of current affairs, STAR News quickly became people's favourite. Living up to its motto of 'Aapko Rakhe Aagey', STAR News became a people's channel. Its cutting edge formats, state-of-the-art newsrooms commanded attention of 48 million Indians weekly.
ABP News (formerly STAR News) is run by MCCS, Media Content & Communications Services For more details visit www.mccsindia.com
History
STAR News was launched in February 1998. From 2003 STAR News became a complete Hindi News Channel. It was the first bilingual (English –Hindi) news service and was initially run by STAR on its own with NDTV doing the production till 2003. But when the agreement with the NDTV expired 2003, STAR News was transformed into a complete Hindi News Channel, part of STAR and ABP tie up.
On 16 April 2012, Anandabazar Patrika (ABP) Group announced that they would part ways, allowing the Rupert Murdoch-controlled company to retreat from the news business in India to focus on entertainment.[2] With the divorce, the eight-year affiliation with the 'Star' brand came to an end. Media Content and Communications (MCCS), the company that owned and operated the news channels, said that after the split, Hindi news channel Star News would be named ABP News, Bengali news channel Star Ananda would become ABP Ananda and the Marathi news channel Star Majha would be called ABP Majha.
Personalities
Shazi Zaman, Editor
Milind Khandekar, Managing Editor