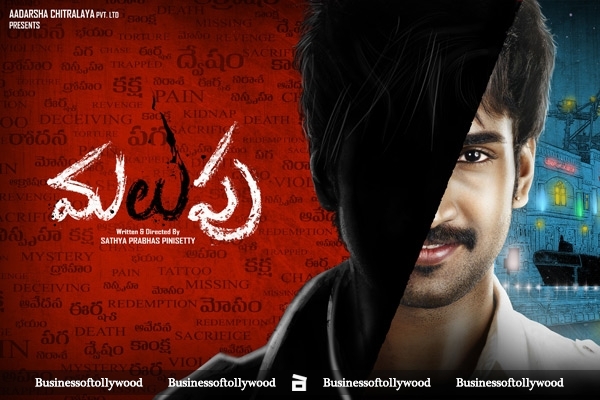 Upcoming Telugu thriller "Malupu", which features Aadhi Pinisetty in the lead, is inspired by a real incident that happened over a decade ago, says its director Sathya Prabhas Pinisetty.

"It's about an incident that happened to my friends, and it changed their perspective about life completely. I wanted to make the film in such a way that the people involved in the incident and audiences could relate to it. If it can change someone's life, I thought it's a good story to be made and told," Sathya told IANS.

The film's story revolves around four friends and the repercussion of the incident on their lives.

True stories aren't easy to recreate for celluloid, and the director, who is making his debut with "Malupu", agrees.

"Try to be as honest as possible to the incident. Having said that, you can't exactly replicate it because you need to take some creative freedom and add some fiction to it. You need to choose what you want to narrate before the incident and what after it.

"A film is usually about putting together few events that audiences can relate to and lose themselves as they watch. They shouldn't think they're watching a film. They should feel it. This script that I worked on, gave me all the ingredients and I just had to present it in an interesting manner," he said.

Sathya is the son of celebrated Telugu filmmaker Raviraja Pinisetty, who is popular for films such as "Chanti", "Peddarayudu" and "Yamudiki Mogudu".

Making inroads in the film industry was not a challenge for Sathya, but convincing his father definitely was. "Being in the industry, dad knows the pros and cons. He's seen the biggest of hits and the failures," he said.

Sathya's folks always thought he would safely end up in a lucrative corporate job.

"I was a very good student and topped in my school and college. I even did my MBA in London. I had a very attractive corporate career inviting me and had the kind of job offers many people would not say no to," he said.

But a visit to his father's film set a few years ago ignited the spark in him.

Having decided not to piggyback on his father's popularity, Sathya went and enrolled himself into American Film Institute. The rest fell in place.

"Malupu", which is produced by Sathya's father, features his brother Aadhi in the lead. It also stars Nikki Galrani and Mithun Chakraborty in important roles.