Yudh Episode 4 Watch Online
Yudh,17th July 2014: Fourth episode of Sony TV's Yudh will surprise you as the series unfolds. This episode continues to promise that Yudh will be a saviour for Indian television.
Part 1

[dailymotion id="x21ni1w" align="center" mode="normal" autoplay="yes"]

Part 2
[dailymotion id="x21ni22″ align="center" mode="normal" autoplay="no"  align="center" ]Part 3
[dailymotion id="x21ni6d" align="center" mode="normal" autoplay="no"  align="center" ]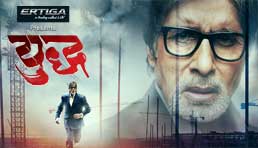 The episode starts with Yudh reaching Ashish's home and asks him how a person can use club's memberships without being its member. Yudh was the reason behind hospital mishape him. Yudh added he let so many people killed, even after knowing about the blast. Yudh informed him all 3 culprits are killed now and his only hope is Ashish now. Yudh says many people were killed because of Anuj, I will do him something.
Anuj gets a CD and gets very tensed seeing his wife's extramarital affair with Ashish. He angrily goes to his house and searches for Mamta. He hears a bullet sound and is shocked to see Mamta's dead body.
Taruni checks Jeet's file with Gautam and Yudh's pics and asks what this is. He says enquiry is going on Gautam Dev.
Yudh with Anand and Mona watch news that Anuj is alleged for his wife's murder and police found a CD of hospital blast.
Yudh reaches home with Mona. Nayan asks Mona what happened. She tells her about the editor incident and says it is strange that Yudh got so angry today, he took medicine and completely calmed down after that.
Anand sees Mukesh's (head of the news channel) car on road and asks driver what happened. Driver says car broke out and Mukesh angrily went home by walk. Anand gets hold of Mukesh and says Yudh is in tension and misbehaved with you and asks him not to take it personally. Mukesh says he will take it professional and will teach Yudh a lesson. Ashish comes there and asks Anand why he killed Mamta and says he will not leave him and Yudh.
Anand reaches home and sees his wife tensed as their son was repeatedly ringing bells. Preeti asks him to accept about their son's disability and send him to special school.
Mona is at home with her friend who asks how Kapil can hide for 1 year. Mona says she should accept that he will not come back. She says he will come back for soon. Mona says he would have come back long ago, either he is not in the world or he is settled with another family. She advices to do any job and find a suitable guy. Friend gets angry hearing that and goes from there. Mona is surprised to see news about Dharmesh telling that Yudh trapped his son in his wife's murder.
Mukesh asks his secretary to spy on Yudh. Rishi gets out of his guest house alone in a car. Naxalites follow him.
Mona gets a call from someone and thanks him/her. She informs Yudh that Mukesh has put his team to spy on you. Yudh says nothing will happen and asks her to make sure forensic report should not get delay and once it is proved Anuj is behind hospital blast, he will not come out of jail.
Rishi buys cricket set from shop and clashes with naxalite lady while coming out of shop. Naxalite lady calls his team member and informs that Rishi is roaming alone and person who was to spy him is not around. She says if he knew he would come alone, we would have nabbed him.
Mukesh sees a new car with an apology note from Anand. He gets annoyed seeing that, takes cricket bat from kids and breaks its glasses.
Doctor checks up Yudh and says with this illness, getting hyper is common and suggests him to prepare legal note from his lawyer to be on a safer side. He says he is going to London for 1-2 weeks and asks him to be in touch with Dr. Mehra till then.
Naxalite meets his group members and asks news about Rishi. They say he did not get out of his guest house at all. He asks them to keep an eye on him.
Nayan calls Yudh and gets angry about Dharmesh's news, she says her father was in politics, but nobody tried to tarnish his image. Yudh says it is common now a days and he will handle it. He calls Mona and asks her to take care of Dharmesh.
Taruni watches hospital blast news, is shocked to hear news about Yudh and checks news about Yudh in her laptop