Ek Nayi Pehchan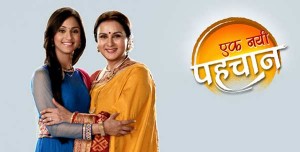 Ek Nayi Pehchaan takes on women empowerment and education through relationships. Ek Nayi Pehchaan is an Indian television drama. The series marks the debut of Bollywood actresses Poonam Dhillon and Padmini Kolhapure to television, along with Krystle D'Souza and Karan Sharma.
Watch Episodes
Could not parse XML from YouTube
Plot
Ek Nayi Pehchaan focuses on a relationship between a mother-in-law and her daughter-in-law. The story begins with a well reputed family: Suresh Modi, the owner of Sharda Textiles, his wife Sharda, his sons Karan and Chirag and married daughter Latika. Sharda meets Sakshi on a train journey. Aditya, the man whom she planned to elope with ditches Sakshi. Sharda consoles a heart-broken Sakshi and suggests that she return home. Back at Modi's mansion, celebrations are going on in full swing as Suresh decides to get Karan married to his business partner's daughter. Sharda is surprised when she learns that Sakshi is going to be her daughter-in-law. On the other hand, Sakshi is glad to meet Sharda once again and agrees to get married to Karan. But, Karan is unwilling to get married to Sakshi. But, after giving it much thought, he eventually gets married to Sakshi.
Sakshi realizes that even though Sharda is a perfect housewife she lacks self-confidence as she is illiterate. Sharda unknowingly thumb prints some important business document, thus surrendering the client to their rival. Angry, Suresh insults Sharda in front of the entire family. Sakshi is deeply hurt on seeing this and she decides to make Sharda literate, independent and confident. She thus encourages her to study and gets her enrolled in an adult education programme in a coaching class. Initially, none of her family members support Sharda but she is often motivated by Sakshi to carry on. Sharda eventually excels in her academic performance.
Latika is unable to spend quality time with her family due to her busy schedule and her married life starts to fall apart. Irritated with the continuous arguments and fights, she decides to divorce Prateek. Also, Diya, her daughter is diagnosed with juvenile diabetes. Sharda makes Latika realize the value of relationships and convinces her to get back with Prateek. Latika and Prateek sort out their differences and decide to get back for Diya's sake. Chirag falls into bad company and gets involved in a car accident. Suresh releases him on bail but Chirag continues with his attitude. Sharda brings this to Suresh's notice but he pays no heed to it.
Karan and Sakshi gradually begin to fall in love with each other. Aditya saves Sharda and Diya from an almost car accident and Sharda brings him home. Sakshi is shocked on seeing Aditya and fearing that he may interfere in her married life warns him to stay away. Sakshi hides from everyone Aditya's true identity. Suresh employs Aditya in his firm because of his diplomacy to deal with clients. Sharda eventually learns about Aditya and Sakshi's love affair in the past and confronts Sakshi. Sakshi confesses everything and Sharda suggests that she confide this to Karan as soon as possible. Meanwhile, Karan notices a photo of Sakshi in Aditya's wallet and starts doubting on Sakshi.
Sakshi confides everything to Karan in a letter only for Aditya to find and change it at the last minute. Karan reads the letter which says that she loves Aditya. Next day, Karan's behavior towards Sakshi changes much to Sakshi's surprise. Aditya tries to hog the spotlight at work and impresses Suresh and Latika which hinders Karan's performance at work and he immediately grows jealous of Aditya. Sharda organizes a small picnic for Karan, Sakshi, Latika and Prateek. Latika invites Aditya to join them. Sakshi hugs Aditya mistaking him for Karan and an angry Karan gets into a fight with Aditya. Soon Sharda makes Karan realize that Sakshi could not do that to Karan. Karan begs Sakshi to forgive him and Sakshi does. Later an evening Sakshi and Karan takes Sharda to her favourite restaurant, Sharda gets to know that Suresh booked the table for her. That day it was Karva Chauth (wife-husband ritual) but Suresh couldn't attend the pooja. So Suresh booked the table. Sakshi and Karan went to meet their friends at the same restaurant. Sharda went for looking after them when she saw Suresh with another woman. Sharda was shocked and she went home fast with Sakshi and Karan after she saw that. She didn't tell them anything. Suresh keeps meeting the other woman and Sharda as well met the other woman her name is Pallavi Ajmera. Sharda however unknown who Pallavi is becomes friends with her. They both have many similarities. Later at another shop Sharda meets Pallavi again, and both of them wants a watch for Suresh. But Sharda gives Pallavi the Watch for her husband. Sharda finds the watch at their home and becomes more Suspicious. Suresh lies and says he bought it for Karan. After Many Lies, Finally Sharda finds out that Suresh is Cheating by finding the Necklace Suresh bought for her in Pallavi's Neck.
At Suresh and Sharda's Anniversary Karan and Sakshi decide to renew Sharda and Suresh's Wedding Vows. Sharda reveals to everyone that Suresh is cheating on her and that he hangs out with Pallavi. It is revealed that Pallavi is Suresh's 1st Wife. Everybody in the Modi Household is Shocked and Enraged at Suresh. Karan, Sakshi and Sharda decide to leave the house and start a new life. It is Revealed that Suresh had 2 Kids with Pallavi, Arav and Shanaya. Sharda opens a Factory and Shanaya decides to ruin Sharda because she ruined Pallavi's life. Sharda and Sakshi find out that all bad stuff is happening because of Shanaya but decide not to show they know anything. Karan iS Jobless and Everything is going bad in the Modi Household.
Cast