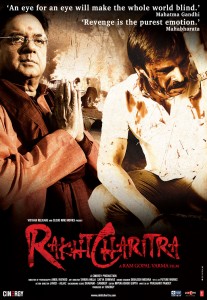 Filmmaker Ram Gopal Varma's next Telugu film "Spot" will be based on a chapter from his own 2010 film "Rakht Charitra".
On his YouTube page, RGV revealed in a video that "Spot" is a Telugu colloquial term used for murder plan by factionists.
"I will never forget the incidents I came across and the people I met during the making of 'Rakht Charitra'. But I couldn't do even 10 percent justice to whatever I encountered in both parts of 'Rakht Charitra' due to several reasons," he said in the video.
RGV's "Rakht Charitra" is a biopic based on the life of factionist-turned-politician Paritala Ravi.
"Just like the Mahabharat, 'Rakht Charitra' too has many chapters. One such chapter is the killing of Obul Reddy by Paritala Ravi's henchmen. I've decided to turn that chapter into a film called 'Spot'," he said.
He added that "Spot" will throw light on the reasons and planning behind Reddy's murder in broad daylight in an apartment in Hyderabad.
"Obul Reddy's killing that shook the entire state Hyderabad took place in 1996 in Masab Tank. I've learnt about everything behind this murder from the people who were involved in it recently. The details gave me goosebumps," Varma said.
RGV is yet to finalise the cast for the film, which is likely to go on floors soon.