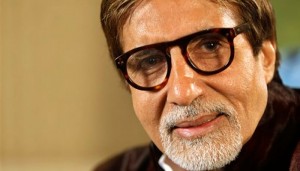 As "Paa" completed five years, megastar Amitabh Bachchan thanked director R. Balakrishnan for coming up with an "innovative creativity".
The movie, which released Dec 4, 2009, shows the relationship of a politician (played by Abhishek Bachchan) with his son (essayed by Amitabh), who suffers from a disease that causes him to age rapidly.
"'PAA' released today (Thursday) 5 years ago!!! Thank you Balki for this 'innovative' creativity.. NOW… 'SHAMITABH'… booommbaa!!" Amitabh tweeted.
The duo's next offering is "Shamitabh", which also features Dhanush and marks the Bollywood debut of southern superstar actor Kamal Haasan's daughter Akshara. The film is expected to hit the screensFeb 6, 2015.
-*-
Salman Khan 'happy' for Varun Dhawan
Three-film-old Varun Dhawan has found a fan in superstar Salman Khan.
The teaser of "Badlapur" was recently released. And along with audiences, Salman also has positive words to share about his "different stuff" in the upcoming film.
"Wah yaar! Kamaal karte ho mr varun (You have done a commendable job Mr.Varun)! Badlapur? Already tryin diff stuff? Film lookin good. Baap ka record tord do jaldi (Break your father's record soon). Happy fr u," Salman tweeted Friday.
Moviegoers will get to see raw and deadly side of David Dhawan's son, who has shed his loverboy image for the dark and intense revenge drama, directed by Sriram Raghavan.
The film will release next year.
-*-
Pooja Bhatt in Kolkata for 'Cabaret'
Actress-filmmaker Pooja Bhatt is off to Kolkata for her next venture "Cabaret".
"Off to Kolkata with Anshuman Mahaley & Kaustav Niyogi to finalise locations for @CabaretTheFilm A trip for the senses in more ways than one!" she tweeted Friday.
The film stars Richa Chadha and former cricketer Sreesanth.