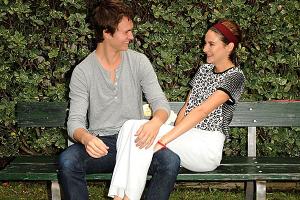 Actors Shailene Woodley and Ansel Elgort recreated a bench scene filmed at Amsterdam for "The Fault in Our Stars", at a dedication ceremony Thursday.

The bench, which includes a small plaque in honour of the movie's loyal fans, will now have a permanent home under a tree at the 20th Century Fox studio lot here, reports eonline.com.

The bench was featured in the film during the pivotal moment when the character Augustus tells Hazel on the last day of their European trip that his cancer is back.

The actor posted a photo on Instagram from the event as Woodley sat on his lap to imitate the famous image. "Re creating the moment 🙂 #tfios," he captioned the photo.

The actress struggled to contain her emotions at the event, and even shed a few tears.

"I just started tearing up. This is the perfect tribute," she said.

Author John Green was also on hand for the ribbon cutting celebration and shared how special the location is to him.

"I remember being in Amsterdam finishing the book. I sat a lot on those benches near the canals, thinking about the story. I remember seeing Shailene and Ansel sitting on that bench in the filming, and thinking how it had all come full circle. But I never thought I'd see that bench near murals of 'The Simpsons' and 'Star Wars'," he said.