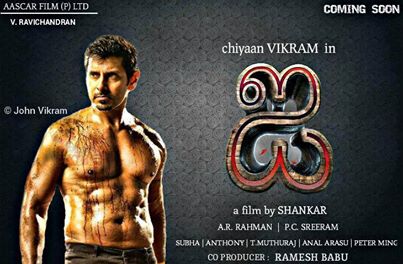 Ai (I) directed by S. Shankar and produced by Venu Ravichandran's Aascar Films, staring Vikram and Amy Jackson in the lead roles along with Suresh Gopi, Shanthanam and Upen Patel in supporting roles.
Ai means King, beauty, astonishment, guru, vulnerability, owner and arrow.
The team of Shankar is now working with Oscar Winners, Weta Digital which has won five Oscar Awards for Best Visual Effects for the movies, The Lord of the Rings: The Fellowship of the Ring, The Lord of the Rings: The Two Towers, The Lord of the Rings: The Return of the King, King Kong, and Avatar.
Ai's visual effects are being done by Rising Sun Pictures (RSP). RSP is an Australian-based visual effects company which bagged Oscar 2014 Awards for Best visual effects for the movie Gravity. Ai is Backed by Oscar Winners
AR Rahman, the double Oscar winner, is composing music for this movie.
"All this is original make-up. We have about 4000 hours of footage of the elaborate make-up process alone, from the film's start to prove that there is no CG involved. Vikram weighs just 45 kgs in this song, and there was about 12 hours of make-up involved every day. Vikram used to be in a large fridge when the shot wasn't happening, and food was given to him through a tube. The song was shot for 2 hours each day and a doctor was there on the spot everyday to monitor Vikram's health", said V Ravichandran about Vikram's preparation for his role.
The dubbed Telugu version of the film has been titled as Manoharudu. The film is set to be released worldwide in at least 17 languages, on April 2014.
I, is Shankar's second collaboration with Vikram and Aascar films after their successful Anniyan (2005).