Yash Raj Films takes a gander at this rather predictable storyline with quite an unapologetic air. What ensures us that it is not just another Bollywood flick with a rehashed Hollywood theme and makes it actually work for the audience is the presentation of this age old concept. Director Shaad Ali has dressed this rather tried and tested concept up with some great actors, catchy music and overall predictable but entertaining plot.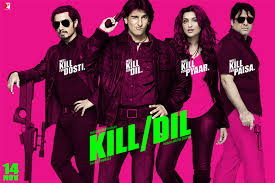 The movie begins with two orphan babies, Dev (Ranveer Singh) and Tutu (Ali Zafar), who have been abandoned in a dustbin at birth. Bhaiyaji (Govinda), a hardened criminal finds them and decides to bring them up for a life of crime. All grown up, the boys predictably become contract killers for Bhaiyaji and are fiercely loyal to their foster father. What throws a spanner in the works is the entrance of the glamorous Disha (Parineeti Chopra). Dev and her fall in love. Again predictably, Disha is not too thrilled with Dev's choice of career and tries to wean him away from it. Bhaiyaji isn't too pleased with Dev's lady love taking him away from her. Ultimately, Dev is faced with the dilemma: should he kill or dil? While he owes so much to Bhaiyaji, he loves Disha dearly…
Bollywood bad boy Ranveer Singh entertained us in Gunday and Ram-leela, but goes a step ahead in Kill Dil. Without much hesitation, we can safely say he is the best thing about this movie. There are some times when he is a little too energetic, it makes us dizzy. But He is so adorable in the role of a kid brought up for a life of crime, innocent about the morality of it all and blindly dedicated to this godfather-like figure.
Ali Zafar plays his part surprisingly well, considering we only usually get to see him in comedy movies. While Dev plays the more innocent and sensitive guy, Tutu is the practical sidekick and best friend. The two make a compelling duo and Ali Zafar is great as a supporting character.
Of course, we are all forgetting Govinda, who makes his comeback as a lead character in this movie after almost a three year sabbatical. He is just wonderful in this movie, playing the role of father as well as hardened crook to perfection. One can hardly imagine him to be the jolly, sometimes silly simpleton of his yesteryears who was given to dancing at the drop of a hat. Parineeti has also shown some definite improvement in her acting and looks stunning throughout. There is some sizzling chemistry between Ranveer and her, though her distracting red lips and not-a-hair out of place look makes it sometimes look like she is flirting more with the audience than Ranveer.
There are a couple of punch lines throughout the movie that are meant to lighten the mood of this otherwise action-packed drama. Some make you laugh out loud, while some will probably make you cringe. We like the plot for its simple, sans melodrama approach, moving at a good, fast pace. The only annoying speed breaks are those many songs that are thrown in to convince us this is not a Hollywood remake of a Clint Eastwood film, but a pukka Bollywood flick. The trio of Shankar-Ehsaan-Loy do deliver good background scores, but the songs tend to be a bit too many.
Kill Dil Movie Review: All in all, the film is predictable but refreshingly so; and the way the three leading men play the criminals with a softer side really tugs at the heartstrings and is a tribute to some great acting.