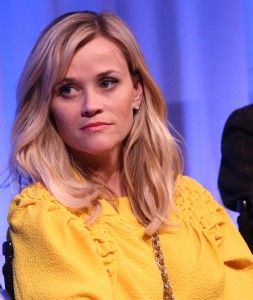 Actress Reese Witherspoon says she used to cry a lot on her kitchen floor.
However, the 38-year-old believes that it's only she who can turn things around whenever she's feeling lost or weak, reports femalefirst.co.uk.
"I lay on my kitchen floor and cried a lot and I think, at a certain point you just wake up and you're like 'OK, I don't want to feel like this anymore.'
"And you figure your own s**t out. But no one's going to figure it out for you," Nylon magazine quoted Witherspoon as saying.
"You can't apologise for being a human being. We all feel weak sometimes, sad and distraught, lost."
Witherspoon will appear in her next film, "Wild", completely naked, and though her daughter thinks it's "weird" to see that on-screen, she's very proud of her mother.
Asked if 15-year-old daughter Ava's going to see the movie she said: "Yeah, we talked about it. I said, 'Ava, I've got to tell you something, I'm naked in the movie, OK, lemme explain!' She's like, 'Mom, that's so weird!'
"I was like, 'I had to be brave and I couldn't just play the parts I was comfortable with. Cause Cheryl was brave enough to tell her whole story so I had to tell the parts that even I was scared to do.' She's proud of me."