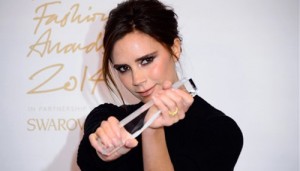 Fashion designer Victoria Beckham called herself "a pain in the bottom" as she accepted the trophy for Best Brand at the British Fashion Awards.
The 40-year-old admitted to being a little bit annoying as she gave a self-deprecating acceptance speech after winning the award Monday, reports contactmusic.com.
The former Spice Girl won the award for her label and thanked her parents Jacqueline and Anthony Adams in her acceptance speech.
"My parents, you love me unconditionally – and I know I am a pain in the bottom," she said.
She also appreciated her husband David Beckham and their four children – Brooklyn, Romeo, Cruz and Harper – for their "support".
She said: "We've come a long way since that Spice Girls dressing room. David, you inspire me every day. You support me. You make this possible. I adore you and my children.
"I want to thank my team. I love you all so much and this is for all of you," she said.