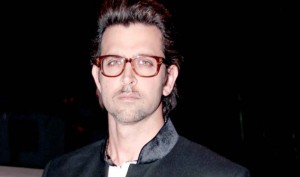 Bollywood star Hrithik Roshan, who has been voted the sexiest Asian man by a British newspaper, says if people find beauty in their imperfections and they turn their weaknesses into their strength, life would be more beautiful for them.
"I am lucky. Not cause I got voted sexiest. Cause I just noticed God gave me a piece of ugly to carry with me to remind myself n others of how beautiful our imperfections make us," Hrithik said in a post on his official Facebook page.



The actor has posted the message along with a photograph in which he's holding his mobile phone with his double thumb showing clearly.
"My thumb used to repel people in school. Today I am posting it to millions like you who I know are just like me. Beautifully imperfect. Thank you God for this wonderful life. Make your weaknesses your strength. Be proud. U are beautiful. Trust me," added the 40-year-old.
Hrithik has reportedly been voted the best in a list of '50 Sexiest Asian Men In The World', released by Britain's weekly newspaper Eastern Eye. Last seen in "Bang Bang", Hrithik is now busy shooting Ashutosh Gowariker's "Mohenjo-Daro".