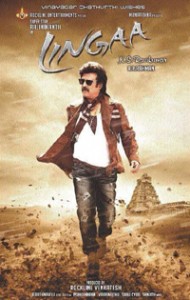 The Madras High Court bench here Wednesday dismissed the writ petition filed by aspiring filmmaker K.R. Ravi Rathinam, who had claimed that the makers of superstar Rajinikanth-starrer "Lingaa" have stolen his story.
Dismissing the case, Justice M. Venugopal advised the petitioner to initiate civil or criminal proceedings instead of filing a writ petition since this was a private dispute.
Directed by K.S. Ravi Kumar, "Lingaa" is slated for release Dec 12 on the occasion of Rajinikanth's 63rd birthday.
Last month, the petitioner had approached the court alleging that the script he had penned for a film titled "Mullai Vanam 999" was stolen by the makers of "Lingaa". He had lodged a writ petition against superstar Rajinikanth, director K.S. Ravi Kumar and writer S. Ponkumaran.
In his counter affidavit, Rajinikanth explained that the script as well as screenplay for "Lingaa" was penned by Ponkumaran, and the story was subsequently registered with South Indian Film Writers' Association.