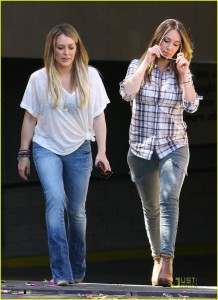 "Fear Island" actress Haylie Duff, the elder sister of singer Hilary Duff, is expecting her first child with fiance Matt Rosenberg.
The 29-year-old actress has confirmed through her representative that she is expecting a baby.
The duo, who announced their engagement in April this year, celebrated yet another togetherness milestone Nov 22 on their anniversary, reports eonline.com.
Haylie posted a photograph taken on a beach and captioned it "Happy Anniversary to the greatest man I know. I'm lucky to be yours. @mr_sts".
The news means that Hilary is going to be an aunt and her son, Luca, will have a new little cousin. Haylie and her nephew recently spent some time together, baking cookies for Thanksgiving, as seen on her Instagram page.
There is no word yet if planning for baby will put the wedding preparation on hold, but Haylie just said earlier this month that she's loving life as it is.
"We're just really enjoying this phase of our relationship. I feel like, so many people, you get engaged and then it's like, 'Okay, we have to get married within a year' or whatever it is…We're kind of just, like, enjoying being engaged. It's fun to be a fiancée," Haylie said.