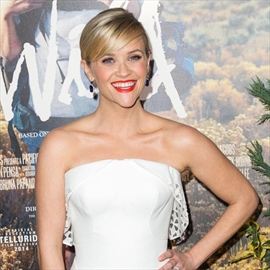 Actress Reese Witherspoon says her nude scenes in her forthcoming movie "Wild" embarrassed her daughter Ava.

During an interview with new! magazine, the actress said she had to explain the reason behind baring in front of the camera, reports contactmusic.com. 

"Ava's 15 and there are parts in the film that I had to explain to her. I told her, 'I'm naked in the movie…' and she was like, 'Mom, that's so weird!" said the 38-year-old.

"I said, 'I had to be brave Ava, and I couldn't just tell the parts I was comfortable with, because Cheryl (Strayed) was brave to tell her whole story, so I had to tell even the parts that I was scared to do'," she added. 

Directed by Jean-Marc Vallee, the film is an adaptation of the novel with the same name, which is set to release Dec 5. 

In the film, Witherspoon plays a former heroin addict who decided to tackle a 1,100-mile hike after experiencing several tragic events, mainly a devastating divorce caused by drug use and infidelity. 

Witherspoon also has 11-year-old Deacon with her former husband Ryan Phillippe and two-year-old Tennessee with current husband Jim Toth.