Salman Khan Ignores Hrithik Roshan's bangbangdare
It has been eight days since and there is no response from Salman Khan.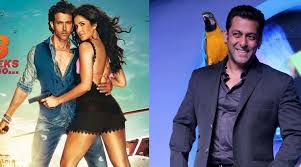 On the last day of September and just two days before the release of the biggest movie in his career till date, Hritik Roshan publicly dared Salman on Twitter to paint a picture with a message.
Here it is. 2 d one who is more about other people than himself, PAINT!! And give d world a message! ANY! @BeingSalmanKhan qubool ?

— Hrithik Roshan (@iHrithik) September 30, 2014
While the dare was happily accepted by Bollywood big-shots like Priyanka Chopra, Shah Rukh Khan, Farhan Aktar, Aamir Khan, Arjun Kapoor, Ranveer Singh and Nargis Fakhri; the only picture Salman seems to have painted is one of his sheer indifference and the only message he has given is that he is not interested in Hritik, his movie, or what other Bollywood stars are doing.
Hastening to save face and in an attempt to counter any public humiliation, Hritik was quoted saying, "Salman is one person who focuses on other people rather than himself. So it isn't possible that he will ignore my Bang Bang dare. He will do it but in his own style. He is known to make a grand entry, so he won't do it like other actors, saying that "I accept'. I'm very sure he will do the dare soon."
Those with a long memory might recall Salman's tart reaction to Aishwarya Rai supporter Sanjay Leela Bansali's movie Guzaarish which starred Hritik Roshan and Aishwarya Rai. The Big Boss claimed in hindi that the movie would not even be watched by a black dog. Angered at this reaction, Hritik retorted that, "Heroes don't gloat, they should show some grace" and what could have added to his reason for ignoring Hritik's bid to promote Bang Bang could also be Hritik's co-star, Katrina Kaif. We are all aware about the relationship Sallu shared with Katrina, and what's more, the pair are even still supposed to be close. Perhaps the sizzling chemistry between Hritik and Katrina in Bang Bang left a bitter taste in Salman's mouth.
Not long ago, there was a rumor that Hrithik and his team had rejected the offer to promote their movie Bang Bang on Salman's show, Big Boss. Could this be due to Salman's no-kabool to Hritik's Dare?
Still, Hritik can take heart from the fact that despite mixed reviews, Bang Bang has already earned more than Rs 200 crore since it was released on October 2.