Paris Hilton has her eye on Bollywood, especially Hrithik Roshan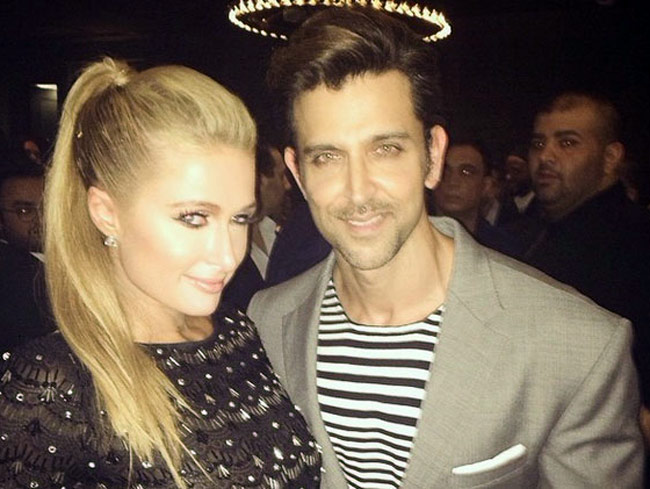 In her last tour to India, Paris Hilton was bombarded with questions about whether she would like to do a Bollywood movie. The 33 year old American socialite, actress and entertainerr has been Offered several lead roles by Indian producers to act in a Bollywood film as well as to create her new single with an Indian singer.
Paris Hilton and the Bang Bang star, Hritik Roshan recently made headlines when they spent the night together at Dubai, where they were attending the VIP launch of Cle Restaurant owned by the celebrity chef, Greg Malouf. The two seem to have hit it off among the other high profile guests present like Paris' sister Nicky, the reality star Khloe Kardashian and supermodels Carla DiBello, Alessandra Ambrosio and Irina Shayk.
The 2001 New York leading It Girl put up a picture of herself and Roshan with the caption "GoodTimes at @CleDubai with Hrithik Roshan. Such a beautiful restaurant, my new favourite hot spot in Dubai". The photograph showed Hrithik Roshan looking elegant in a grey suit, while Paris Hilton looked stylish in a classy black dress.
The tweet caught the eye of founder of Hollywood.TV, , Sheeraz Haasan and she was quick to throw the question to the hotel heiress about doing a film with Hritik and playing his love interest . "Hey @ParisHilton do u want to be @iHrithik love interest in his next Bollywood movie?"
To this, Paris said yes, throwing in her iconic "He's hot", adding "Hrithik's a gentleman, very sweet and charming, and we hung out all night. I have heard so much about Bollywood and Hrithik represented India in the most elegant and romantic way! I can't wait to go back to India. I love the culture, the people and the fashion…India rocks."
According to Sheeraz, Paris' tweet created quite a frenzy in Bollywood. Some of the biggest names have already connected with her showing their interest in making the next Paris-Hrithik film.
The recently separated Hrithik seems to have taken a fancy to hanging out with foreign beauties. Not long ago, the Bollywood hunk was also seen at a restaurant in Mumbai with firang Nargis Fakhri