Ekkees Toppon Ki Salaami is a pledge to the common man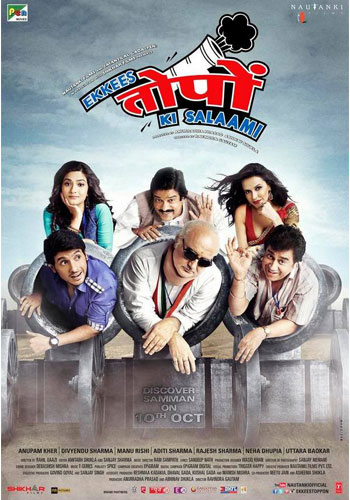 Directed by Ravindra Gautam, the film stars Anupam Kher as Purushotam Narayan Joshi, a common man who fails to earn his bit of appreciation despite being completely honest during his life-long service as a jamadaar at the municipal corporation for the Government of India.
Joshi had been planning his retirement for a long time. All hell breaks loose for him on his last day of work when he is falsely accused of theft and suspended without his provident fund or pension. This is a great blow to Joshi and he never recovers from the shock. Therefore, he dies with one wish on his lips: to get a 21 guns salute, a mark of great respect reserved for people from the military.
What makes the movie interesting is that his sons are completely different from Joshi. While Shekhar (Manu Rishi)is a corrupt officer, Subhash (Divyendu Sharma)is a party worker who is close to the CM. After he loses his job, his sons are initially only worried about their homeless state and aren't able to understand their father's pain. In fact, only after his death and the discovery of Joshi's diary wherein lay a record of his honesty do they have a real change of heart and decide to give their father his last wish.
The film is produced by Anurradha Prasad and Abhinav Shukla under the banner of Nautanki Films and is written by Rahil Qaazi. Music is by Ram Sampath.
The movie has a star cast of Anupam Kher, Neha Dhupia, Divyendu Sharma, Manu Rishi Chadha, Aditi Sharma, Rajesh Sharma, Uttara Baokar, Supriya Kumari, Bhagwan Tiwari, Sudhir Pandey, Aasif Sheikh and Anurag Arora.
Modelled after the classic Jaane Bhi Do Yaaron, the movie is a modern day take that still manages to retain some individuality. You will find satire, humor, a lot of preaching and a bit too much melodrama. But a  clear story and simple plot coupled with the acting of Anupam Kher are the biggest plus points about the movie. Kher, who plays Joshi plays him well. He is the lone and noble figure, fighting on despite his son's ridiculing him. Kher manages to add crispness to the film in the first half. In the second half, however, the film loses its way occasionally.
Ekkees Toppon Ki Salaami Movie Review verdict
The film will make an interesting watch though sometimes the humour falls flat and the characters get a bit too preachy at times. One also wonders that after the mission of the 21 gun salute is achieved, will the common man really have benefited?