Khoobsurat Co-produced by Disney,  a modern romantic comedy will surely do WELL next week.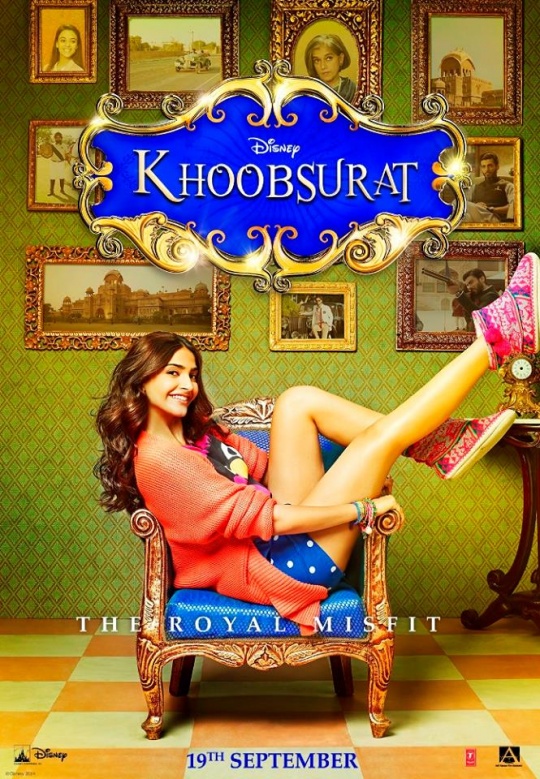 Thank god it's Friday. Movie buff or not, no doubt you are looking forward to watching a movie this weekend. But when we look at the list out this week, somehow nothing seems to grab the eyeballs. However, all is not lost. Remember, there is still the movie 'Khoobsurat', a first-time Indian movie co-produced by Walt Disney Pictures.
Directed by Shashanka Ghosh, produced by the terrific trio: Anil Kapoor, Rhea Kapoor and Siddharth Roy Kapoor and distributed by Walt Disney Pictures, Anil Kapoor films company and UTV Motion Picture; this modern and quirky romantic comedy is sure to impress. Starring Sonam Kapoor and Fawad Afzal Khan as polar opposites: Sonam Kapoor plays Dr. Milli Chakravarty, a bubbly physiotherapist and Fawad, the Pakistani silver screen hottie makes his film debut playing Yuvraj Vikram Singh, a serious Rajput prince from the royal family.
Dr. Mili is sent to treat Shekhar Rathore, Raja of Sambalgarh who is a paraplegic. While there, we see a great contrast between her personality and that of the royal family, which lends the conflict element to the movie. Adding romantic flavor, we notice some strong chemistry between Mili and Yuvraj Vikram Singh, who, to top it all off, is engaged to someone else. The drama that ensues from all this is, consequently, a treat to watch.
Since its release last week, the film has made waves in Pakistan and has been received well in India as well. However, with six average films releasing this week in the box office, this is khoobsurat's week to shine.
[youtube id="1em8DBrqCck" align="center" mode="normal" autoplay="no" maxwidth="700″]