Creative dares for Bollywood big-shots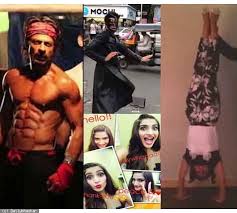 Hritik Roshan has been making headlines with his unique #bangbangdare, a promotional strategy employed to promote his upcoming film, Bang Bang! (Following New promotion tactics)
After having dared Shah Rukh Khan, Sonam Kapoor, Ranveer Singh, Farhan Akhtar, Farah Khan and Priyanka Chopra along with a few more, rumours abound that the next targets are Katrina Kaif and Shradha Kapoor.
Inspired by Hritik's dares, we came up with our own list of people we'd like to #bangbangdare:
Deepika Padukone
Eat a maximum of green chillies in 10 minutes
Karan Johar
Travel by bus and (if in disguise, reveal self at least once to the public)
Amir Khan
Dye hair in seven colours of your choice
Amitabh Bachchan
Burst crackers on a busy road
Akshay Kumar
Walk around in pyjamas in public
Shilpa Shetty
Perform these Difficult Yoga positions in the middle of the road or a public place: Bakasana or crane pose; Tittibhasana or firefly pose; Garudasan or Eagle posture; Sirsasana – or headstand and Niralamb Shalabhasan or unsupported locust pose
Arjun Rampal
Jog 5KM  in business suit
Alia Bhatt
Take 5 Selfies in Historical places
Kapil Sharma
Sell vada paav on CST station for 10 minutes
Shahid Kapoor
Perform a 3 minute monologue from Bollywood in a public place
Hritik, are you reading? Any stars or creative dares you'd like to add to the list?
What should we suggest to Hritik? Any Bang Bang Dare?