Yudh (Hindi: युद्ध) is an Indian television psychological thriller miniseries directed by Ribhu Dasgupta, starring veteran actor Amitabh Bachchan. 
[dailymotion id="x21gqp1″ align="center" mode="normal" autoplay="yes" aspect_ratio="4:3″ maxwidth="600″]

Part 2
[dailymotion id="x21gruj" align="center" mode="normal" autoplay="no"]Part 3
[dailymotion id="x21gsrm" align="center" mode="normal" autoplay="no"]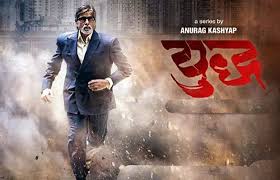 Yudhishtir Sikarwar (played by Big B) is a man many believe to be invincible. He is a successful construction magnate, who has built his empire without compromising his integrity and principles. This resulted into rivalry between Tigmanshu Dhulia, who plays a politician and Kay Kay Menon, who is seen as a corrupt police commissioner. Others are equally eager to bring him down. While he has to deal with evils in his professional life, his personal life is also not going smooth. Yudhistir suffers from a psychological disorder, which can't be treated. Due to the psychological disorder, he sees normal people dressed as clowns, which is kind of funny. Probably, it will be one of the main highlight of the show.
Twists don't ends here. He has two wives. The first wife is named Gauri, played by veteran actor Sarika, with whom he has a daughter Taruni (Aahana Kumra) and his second wife Nayantara (Ayesha Raza). From Nayantara, Yudhistir has a son named Rishi (Pavail Gulati). In such situations, one can expect a lot of conflict in the upcoming episodes. So how he manages to tackle his professional and personal problems and whether or not he wins forms the story.
For the review on this episode, please click here.