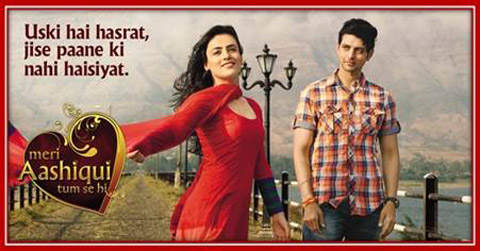 The character of Ranveer Kailash Waghela of Meri Aashiqui Tum Se Hi has some similarities with Shahrukh Khan's character in Pardesh.
When Ishaani's (female protagonist) father asks Ranveer aka Shakti Arora to make her fall in love with the guy he has chosen for her, it reminds the viewers of Arjun from Bollywood hit movie Pardes. Shah Rukh Khan who played Arjun had encountered an almost similar situation in the movie.
When asked about the show being inspired by the film, Shakti Arora says, "Well, it could be the case, but it is not only Pardes. It could also be Kal Ho Na Ho and Rajesh Khanna's character in Anand, because I play someone who laughs at life's adversities."
Shakti has also shot for a fire sequence where he saves the girl he loves. He said, "Yes, and that was shot in true Shah Rukh Khan's style."
Meri Aashiqui Tum Se Hi is a new show of Colors which premiered on 7 July 2014. It is produced by Balaji Telefilms production. The story is based on Gujarati family background. The show revolves around the journey of Ranveer (Shakti Arora) whose amorous friendship with Ishaani (Radhika Madan) becomes a painful point in his life, as he finds himself unable to confess his undying love for her.
Meri Aashiqui Tum Se Hi featured Shakti Arora and Radhika Madan as the lead pair of the show. The theatre veteran Sarita Joshi is playing a grey character in the show. Gauri Pradhan Tejwani makes her comeback on the small screen with Meri Aashique Tum Se Hi.