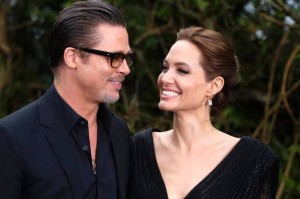 Actress Angelina Jolie says that her husband and actor Brad Pitt is apprehensive about their children getting tattoos.
Jolie has said that her husband was left feeling uneasy when their daughters, Vivienne, six, Shiloh, eight and Zahara, nine, asked if they could get inked themselves, reports femalefirst.co.uk.
"They're already asking me about tattoos. How do I say no? It's especially hard for dads and girls," Jolie, who herself has some tattoos told Radio Times.

"For some reason, men get a little more sensitive when the daughter gets a tattoo. And Brad thinks the girls can do no wrong. He's mush in their hands," she added.
However the couple, who is also parents to three boys, six-year-old Knox, 11-year-old Pax and Maddox, 13, agree that their children should pursue a different career to their own.
"We've always said, if they want to act, we won't let them only act, because it's not enough. They'll have to find a real job at the same time. But I'm hoping that when they see all the other things in the world, they'll be inspired to be writers, politicians, activists.
"They are very individual people. So I imagine they're not going to follow their mum and dad," Jolie said.
With the monsoons invading coastal areas, the local administration at various cities adjacent to sea shore has started shooting security alerts and safety advisories. Watersport attractions like water rafting, banana ride etc. are no more allowed in this season. Tourists have been advised to stay away from beaches because of ever-rising tides. Recently, there was news of few adventurers, who ignored such admonitions and went ahead to test those waves at Calangute beach at Goa. The mighty sea waves did not spare them, and immediately few of them were gulped inside. Lives were lost.
Something similar happens to us human beings when we go through phases of high tide emotions. Laddu Pinto was a good cricketer; a suave batsman. He had represented his institute in many state-level competitions. He was a high probability contender for getting a place in the national team. However, for some reasons, it did not happen. Laddu got upset, and in the phase of extreme despair he went up to the higher authorities to inquire the reasons he was not selected. The discussions could not sustain long, and Laddu vented off all his anger with heated words and abuses. The result – Laddu got recognised as an ill-tempered person and lost all future possibilities as well!