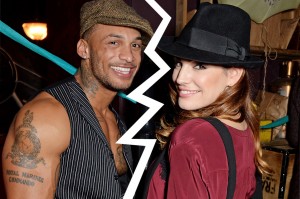 Actress-model Kelly Brook has reportedly dumped her on and off boyfriend David McIntosh after seeing his pictures with another woman.
The 35-year-old decided to end their turbulent relationship after the former military men was caught leaving a late-night party with glamour model Aisleyne Horgan-Wallace, reports mirror.co.uk.
Seeing pictures of the duo driving away together following the Lingerie Awards was said to be the final straw for Brook.
"When she saw the pictures of David and Aishleyne together she was livid. She was at a different awards do that night and didn't know they'd left with each other," said a source.
"She's given David chance after chance. She took him back following rumours of cheating and tried to put their troubles behind them so they could rebuild their relationship.
"Then he goes home with another woman. She's wasn't going to take that."
Brook and McIntosh announced their engagement in March this year after a whirlwind romance, but then six months later Brook told of their split on Twitter.