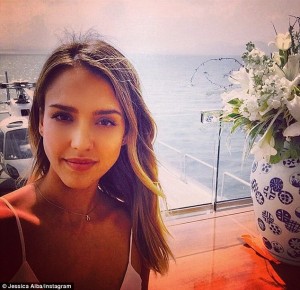 Actress Jessica Alba is working out hard for her action-packed role in the upcoming film "Mechanic: Resurrection".
The 33-year-old works out two to four times a week for hour-long sessions that focus on high-intensity intervals. She is training under Michael Margolin, co-founder of Krav Maga, the Israeli military's official system of hand-to-hand combat, reports people.com.
"It gets you in good shape and you're also learning a skill," her trainer Margolin said about the training.
It's an effective workout, "because of the kicking and punching with the resistance of another individual," he added.
Talking about Alba, he said: "We start with a warm-up, and then we do intervals. We do a lot of mitt work where she's kicking and punching various targets as strong as she can for a period of time, and then she rests for a period of time. We also mix in medicine balls, kettle bells and some light weights."
Directed by Dennis Gansel, the action thriller also stars Jason Statham, Tommy Lee Jones and Michelle Yeoh. "Mechanic: Resurrection" is slated to release in early 2016.