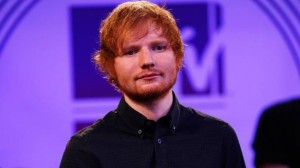 Singer Ed Sheeran is showing interest in the business side of his work as he wants to keep a tab on the numbers.
The 23-year-old admits it's not very artistic to take an interest in the business side of his career, but he wants to know how well he is doing as it has become a common attitude among artists today, reportscontactmusic.com.
"I know it's not very artistic, being into the way things work. But I want to know the numbers.
"We're all like that. Drake's like that. Taylor Swift knows everything about everything," Sheeran told Q magazine.
The "Thinking Out Loud" hitmaker also confessed that he is obsessed about how his promotional TV appearances affect his record sales.
Discussing what he would do after appearing on "The X Factor", he said: "I'll be refreshing iTunes. Seeing where the song is. Of course, what's the f***ing point otherwise?
"Every TV show, big or small, I've always looked at the reaction. And compared it to whoever was on the week before."