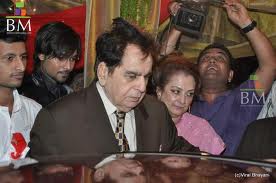 On his 92nd birthday Thursday, veteran actor Dilip Kumar was discharged from the Lilavati Hospital where he was being treated following a bout of pneumonia.
He was discharged Thursday afternoon, the actor's close family friend Udaya Tara Nayar told IANS.
"He got discharged at around 1.30 p.m. today and we're taking him home. He is looking absolutely fine and healthy," said Nayar, the compiler of the thespian's autobiography "The Substance And The Shadow".
The star of films like "Devdas", Madhumati" and "Mughal-E-Azam", married to actress Saira Banu, will be having a quiet celebration at his residence for his special day Thursday evening.
Meanwhile, the Twitter world saw Dilip Kumar receive birthday messages from celebrities like Lata Mangeshkar, Subhash Ghai and Anupam Kher, who have wished him a long and healthy life.
"Namaskar. Aaj mere bade Bhai Abhineta Dilip Kumar ji ka janamdin hai. Ishwar unhe deerghayu kare, hamesha khush rakhe (Today is my elder brother, actor Dilip Kumar's birthday. May god give him a long life and happiness always)," India's popular songstress Lata posted.
Anupam tweeted: "Happy Birthday Dilip Kumar Saab. The real THESPIAN of Indian Cinema. Long & happy life. They don't make actors or people like him anymore", while Ghai shared: "LONG LIVE DILIP KUMAR, the institution in art of screen acting of Indian cinema the star of superstars n a man of compassion loved by all."