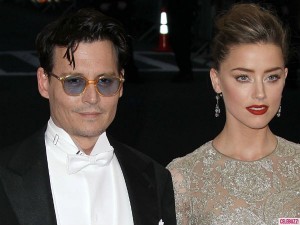 Actor Johnny Depp and his fiance Amber Heard are said to have slowed down their wedding plans.
The couple, who confirmed their engagement in January after less than two years of dating, have put their wedding on hold following speculation that the 28-year-old actress was "unhappy" with her fiancé's strange presentation at an awards ceremony last month, where he appeared to be drunk, reportscontactmusic.com.
"There's no rush to marry at the moment. Johnny is crazy in love with Amber, but there is turmoil in the relationship," said a source close to the couple.
The actress is currently filming "Magic Mike XXL" and friends think she may be losing interest in the 51-year-old actor, who has daughter Lily-Rose, 15, and son Jack, 12, with ex-girlfriend Vanessa Paradis.
Amber was said to have been mortified by Depp's sloppy behaviour at the Hollywood Film Awards in November.
"Amber couldn't believe he had made such a fool out of himself. This reflects really badly on her, and she's not happy about it," a source said at the time.