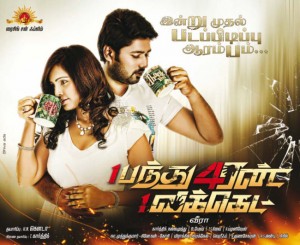 Forthcoming Tamil film "1 Pandhu 4 Run 1 Wicket", with its quirky title, is a cricket-based silent horror film, according to its director Veera, who assures that he has avoided all the cliches associated with the genre.
"All horror stories are usually about revenge, and are filled with lot of violence. My film is a silent horror comedy woven around a cricket match. It's silent because there's no unnecessary screaming and sounds. I've avoided all the cliches of the horror genre," Veera told IANS.
Asked about the idea to include cricket in a horror story, he said, "I'm a big fan of cricket, which is the most viewed sport in our country. I wanted to do a cricket-based film, but then I realised it's already been done. So I've experimented with this idea."
The story revolves around a cricket fanatic, who is watching an India versus Pakistan final match. What happens in the last ball of the match becomes very crucial from the story's perspective.
He admits it wasn't easy to write the screenplay.
"Horror and comedy are not easy to pull off together. It's very important to strike a balance. You need to know when to give the audience a jolt and when to make them laugh. If you overdo it, it will backfire," he said.
Starring newcomers Vinai Krishna and Hashika Dutt, "1 Pandhu 4 Run 1 Wicket" has a very strong role for the heroine.
"Hashika has a very prominent role, while Vinai just plays the supporting character. It's a heroine-centric film where audiences will root for her in the end," he added.
The film, which release in cinemas Friday, also features Madhumita and Sentrayan in important roles.