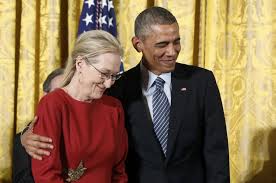 Actress Meryl Streep and singer Stevie Wonder were presented with the US Presidential Medal of Freedom, the country's highest civilian honour, at a ceremony at the White House.

The three-time Academy Award winner and the "Superstition" singer received the medals from US President Barack Obama Monday along with 18 other deserving recipients.

The president took the opportunity to express his fondness for Streep.

"I love her. Her husband (Don Gummer) knows I love her. Michelle (Obama's wife) knows I love her. There's nothing that either of them can do about it. Meryl is truly one of America's leading ladies."

"She's done it all for her craft. She's sung ABBA (in 'Mamma Mia!'). That's something," he said.

The president also presented Wonder with the honour and told the 65-year-old that his 1972 album "Talking Book" was the first record he ever purchased as a youngster.

"I was 10 years old, maybe 11 – with my own cash. I didn't have a lot of it. And that thing got so worn out … Young people, you won't remember this, but they had albums," he said.