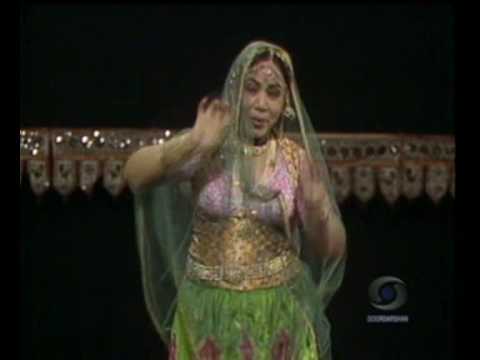 Someone who was generous with compliments, someone who was lively, spirited and, at times, blunt, and someone with a great sense of humour — this is how the world of performing arts remembers charismatic and effervescent Kathak danseuse Sitara Devi.

"I met her two weeks ago in Mumbai. She wasn't well, yet she wasn't complaining. She was always buzzing with energy and was committed, passionate and dedicated towards this form of art," Saswati Sen, Kathak dancer and principal disciple of Pandit Birju Maharaj, told IANS.

"These qualities formed the basis of her life. During her initial struggling days when a woman taking up dancing as a profession wasn't received well by the society, she embraced Kathak and showed the world how the dance form can be treated with dignity," she added.

Sitara Devi died Tuesday morning in Mumbai after prolonged illness. She was 94.

Renowned Kathak dancer Shovana Narayan fondly remembers Sitara Devi as someone who was 'zinda dil' (vivacious) and, if the situation demanded, blunt.

During one of the performances, time was allotted to each performer and they had to finish the act when a red light started blinking. But when she took to stage, she completely ignored the red bulb and kept dancing, Narayan told IANS.

"She mesmerised the audience. And later she said 'main nahi rukane wali thi' (I wouldn't have stopped). She was always in her elements and for this piece she received thunderous response," she added.

However, Narayan recollected an instance when Sitara Devi was hurt about something and ensured that the message was communicated to the concerned person in a subtle, yet blunt way.

A recipient of prestigious awards like Sangeet Natak Akademi Award, Padma Shri and Kalidas Samman, Sitara Devi was trained by the father and uncles of classical dancer Pandit Birju Maharaj, of the famed Lucknow gharana.

Hence she shared a great equation with Pandit Birju Maharaj who admitted that India lost a "dancing star" Tuesday.

"This is a big loss. People like her are very rare and I hope India will find someone like her. She was an epitome of courage, strength and dedication and always treated me with respect and love," Birju Maharaj told IANS.

According to Shobha Deepak Singh, director, Shriram Bharatiya Kala Kendra, Sitara Devi was extremely generous towards people and with compliments as well.

"In this industry you normally don't meet people who are generous enough when it comes to complimenting other performances. But she was an exception who never hesitated to encourage young performers," Singh told IANS.

"She was a very interesting person with a great sense of humour. She stayed with my family in 2005 and every evening we would engage in meaningful talks about cultural activities and performing arts," she added.

For Sen, who considers Sitara Devi as an "iconic face of women in Kathak", her death is an "irreparable loss".

"It is hard to believe that she is no more. She was the goddess of dance. Many youngsters might not even know who she was, but those who know would agree that she left a legacy behind her that reshaped the world of Kathak," Sen said.