What it takes for films to hit the 100 crore mark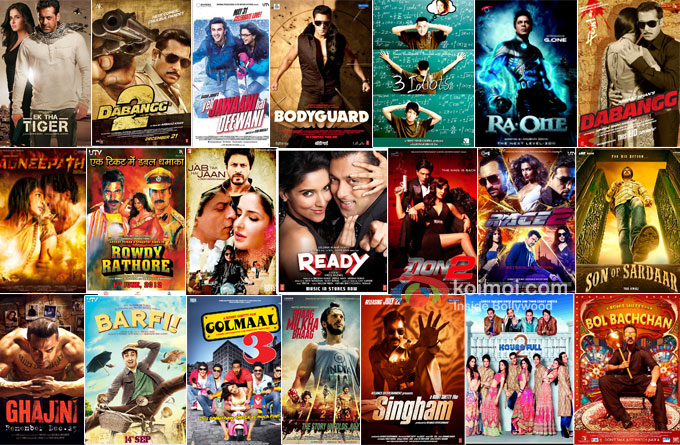 A European and Indian walk into a pub. Along with their drink, the two opt to share a plate of curly fries. The waiter arrives with their drinks and places the plate on the table. The two take a bite and spit it out. "Yuck" they say in unison. "There's no spice in this!" exclaims the Indian. "Are you kidding?" intones the European, "There's way too much of it!" Now while this comparison may appear somewhat simplistic to the critical reader, the point we are trying to drive home is that Indians; just like their food, prefer their films to be full of masala. Below, we provide the recipe for a masaladar film that incidentally, in the Bollywood industry is synonymous with the 100 crore film.
A popular super-hunk
Women want them, men want to be them. You can't go wrong in Bollywood until you choose and sign a super-hunk in your movie. Think Shahrukh Khan, Aamir Khan, Salman Khan, Hrithik Roshan, Ranbir Kapoor, Ajay Devgan; and you'll get the idea. This is because when a new Bollywood movie is being released, audiences don't ask 'What's the plot?' or 'Who's directing it?' They ask, 'Who's the hero?' and make their decision based on that.
Pretty lass or lasses
No, it doesn't matter if the female lead or heroin of the movie is a bimbo. Or if the man she is romancing is old enough to be her father. Bollywood audiences like their women thin, wide-eyed and drop-dead gorgeous. Peddle the fact that they can have any man they want and yet choose to have none until the super-hunk hero comes along and you'll have the audiences eating out of your hands. Of course, when it comes to women, the more, the merrier. Throw in a vamp or two to the mix to add that antagonist to the sanskari leading lady and boost the oomph factor in those mandatory item numbers.
Catchy Songs
A movie may die and wither away. Yet, you can't ignore it's title track every time your colleague's phone belts out 'Om Shanti Om'' or something similar. As for the content of the songs—nobody cares, as long as it has the potential to attach itself for a long time onto the neurons of the average film-goer. Think of all those nonsensical lyrics you hum in the shower or on your way to work and tell me those aren't from a 100 crore movie.
Item Numbers
Internationally, films with songs like My Fair Lady and Chicago can be classified as musicals. Then there's the Bollywood movie, which of course, goes a step further to create item numbers for the voyeurist in all of us. An item number is usually defined as a catchy, upbeat, often sexually provocative dance sequence for a song in a movie.
So, item numbers will usually feature the male lead and item girl, both showing off as much skin as the fickle sensor board will allow. Sometimes, it just seems movie makers use the item number to incorporate stars they didn't want or couldn't have as leads. Usually, an item girl is a woman with a great figure and perhaps even dancing skills, who cannot act if her life depended on it.
It was the song Lovely featuring Deepika Padukone for Happy New Year and Tu Meri Bang and Meherbaan For Bang Bang. Who can forget Dhoom Machale Dhoom and Kamli featuring Katrina Kaif in Dhoom 3
As for the blockbuster Yeh Jawaani Hai Deewani, Madhuri Dixit appeared with Ranbir Kapoor for the item number Ghagra. In Goliyon Ki Rasleela Ram-Leela, Priyanka ChopraFeatures in Ram Chahe Leela. The item number featuring Shahrukh Khan was Kaal for Chennai Express, Dil Tu Hi Bataa for Krrish3, which featured Hrithik Roshan and Kangna and Mashallah for Ek Tha Tiger which featured Katrina Kaif.
Exotic Locations
It doesn't matter if the plot could be executed in someone's living room, Bollywood audiences value movies depending on how many places they were shot in and what those places were. Songs provide the most convenient excuse for a seamless transition between locations…we see the male lead romancing the female lead on a mountain in Switzerland one minute, besides the Niagara Falls the next; and then in the pyramids of Egypt—complete with a wardrobe change to suit the climate and culture of the scene. .
An all-encompassing Promotion strategy
Think about Hritik Roshan's Bang Bang Dare, Shahrukh Khan's Barely Speaking viral video and the controversial confirmed-but-unconfirmed relationship between Katrina Kaif and Ranbir Kapoor. Promotional strategies for a movie come in all shapes and sizes. It could be as blatant as appearing in someone's talk show to speak about the movie or as subtle as creating rumours about a possible fling between the lead co-stars
Grabbing Screens
We all joined in the collective 'wow' that ensued after hearing about Happy New Year's 6,000 screens worldwide release. Look at the other films that recently came out. Dhoom 3 released in 4400 screens, Kick in 5,000 and Bang Bang in 4500. It logically makes sense. Display your movie in more screens and ensure there are no people waiting in line to buy the ticket but can't and you are sure to turn a profit of 100 crore in 3 days if you have taken care of the points above. So, while a film like Happy New Year was created with 6,000 prints, we contemplate the difference the film Hum Aapke Hain Koun had with just 24 prints that circulated around for more than one year when it released in 1994.
With so many films joining what is being touted as the '100 crore club', we wonder where the future of the Bollywood film industry is heading. Overshadowed by the factors above, is the script completely lost on audiences, as long as they are delt out their required ration of masala? To read our piece on 'Are we stupid as a Bollywood audience?' click here.