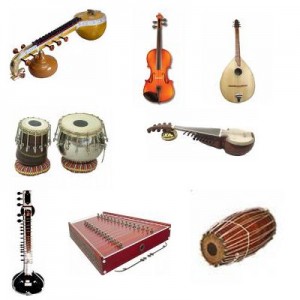 A string of instrumentalists used the sound of sitar, mridangam, flute, tabla and a plethora of other classical instruments in an effort to erase the memories of the shocking gun-fire of the 26/11 massacre on the sixth anniversary of the gruesome terror attack here.

Flash concerts were held here to pay homage to the martyrs of the incident, which shook the nation Nov 26, 2008.

Organised by Qyuki, a multi-channel network, the performances were held at Chhatrapati Shivaji Terminus, Marine Drive and the third took place outside the Taj Mahal Palace. 

"It is to honour the martyrs of the 26/11 attacks on Mumbai through a series of flash concerts, a tribute to the people who lost their lives on that day," Samir Bangara, managing director, Qyuki, said in a statement.

Titled "Shaheed Sangeet Sammaan #SSS2611", the event saw several accomplished musicians namely Purbayan Chatterjee, Fazal Qureshi, Rakesh Chaurasia, Dilshad Khan, Deepak Pandit, Sridhar Parthasarathy, Imran Khan, Siraj Khan, Bharat Raj, Manu Raj, Shridhar Jujjar and Unmesha Athavale among others performing a seven-minute classical homage to the real-life heroes.

"Indian classical music is at the core of our national identity. Shaheed Sangeet Samman is a musical communion of the people of this country and a tribute to those brave souls who gave their lives on Nov 26, 2008," said Chatterjee, a sitarist.