Why Sonali Cable is needed in Bollywood today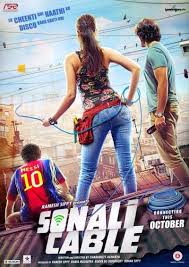 How many times have you gone for a bad movie just because you saw it everywhere you went and were simply curious to see what all the fuss is about? And then you try to talk others out of going for it, but they, too are hooked and go anyway.
We are noticing a trend recently in Bollywood. Rich directors hire famous actors to star in their movies. Added to that, the movie is released with the maximum amount of hype and during a strategically set time to ensure more viewership. With promotional tactics like in Bang Bang and voyeuristic trailers, we wonder where cinema is going as an art form.
One may be going to spend an evening unwinding or to hang out with friends, but remember: cinema is an art form, and before entertainment, it is a form of expression of the script writer, director and even producer. Cinema is a medium that can appeal to the masses, create a mindset change and inspire and uplift the human spirit. But nowadays, when we look at the new filmi formula emerging for success in Bollywood, we cringe.
amidst the almost ridiculously hyped Bang Bang and now Happy New Year, we find what we now call 'an 'art film', Sonali Cable. We tell you why movies like this one are important today and why, like the David and Goliath' storyline, this little movie makes a big difference.
Charudutt Acharya's upcoming Bollywood film, Sonali Cable was also scripted by him and was selected as one of the eight scripts for Mumbai Mantra-Sundance Institute Screenwriters Lab 2012. The rigorous selection process saw applicants from around the world, including the US and France. No doubt impressed by the new director, producer Ramesh Sippy and Rohan Sippy agreed to produce the movie. >> It is the first film from the Sundance-Mahindra script lab to be made into a film.
An alumnus of Film and Television Institute of India, Charudutt Acharya has been writing for a couple of shows on TV.
Based on a real person, the movie follows female protagonist Sonali Dattaram Tandel (Rhea Chakraborti), Who runs a tiny cyber cafe with the help of a few of her ghetto boys.
A typical Maharashtrian girrl, Sonali is a high school pass out who hires local boys to run her business. Her childhood sweetheart, played by Ali Fazal arrives on the scene from the US and helps Sonali expand her enterprise. All her dreams are shattered when a big company arrives on the scene and tries to take away Sonali's customers. Angered and fired up, this spunky lass stands up for her enterprise and decides to take on the company.
The movie is a thought provoking and original film which is not only based on a real person, but also can be applied to our own context. If you see small directors with shallow pockets being pushed aside by bigger directors or local industries dying out because of the recent spate of encroaching MNCs, think about the message of Sonali Cable. Sonali  Cable is a breadth of fresh air.