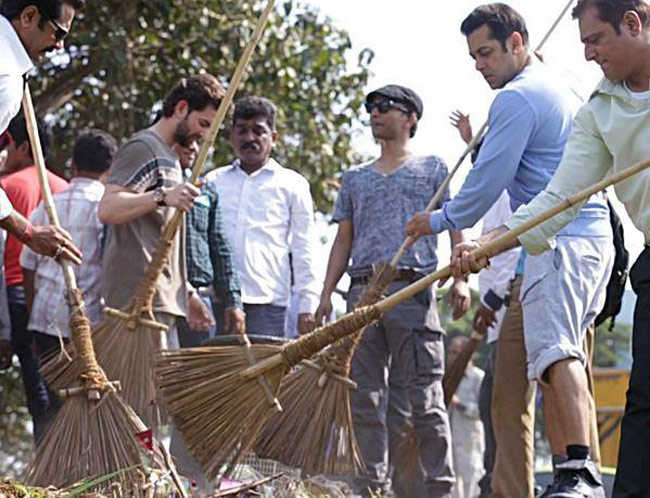 Salman Khan is always way more than what he is in silver screen, proving it right again he accepted Prime Minister Narendra Modi's invite to be a part of the Clean India Campaign (Swachh Bharat).
Swachh Bharat Abhiyan (Campaign Clean India) is a national level campaign initiated by the Government of India covering 4041 statutory towns to clean the streets, roads and infrastructure of the country.This campaign was launched officially on 2 October 2014 at Rajghat, New Delhi, where Prime Minister Narendra Modi himself wielded broom and cleaned a road.
Salman Khan took part in the inititative by conducting a clean-up drive in Karjat. He shared pictures him along with his team cleaning and sweeping the place. Another picture also showed him painting a house. Salman extended his great pleasure and thanked Prime Minister for including him in the campaign.
Salman Khan nominated nine renowned personalities including Jammu and Kashmir Chief Minister Omar Abdullah, Tamil superstar Rajnikanth and Bollywood star Aamir Khan to join the campaign.
Later he also nominated all his fans on Facebook and then his followers on Twitter. He also insisted his fans to do the same.
Prime Minister Narendra Modi appreciated the brave stand taken by Salman Khan which will inspire several people to join Government's ambitious Swachh Bharat Mission.
"The effort by @BeingSalmanKhan is a significant one that will inspire several people to join Swachh Bharat Mission. #MyCleanIndia," the Prime Minister wrote on Twitter after Khan posted photos of his cleanliness drive on Facebook. Narendra Modi also retweeted Salman Khan's Facebook post with the photos.
Mean while, Prime Minister had pulled in nine celebrities including cricket icon Sachin Tendulkar, Congress leader Shashi Tharoor, the industrialist Anil Ambani and several other actors including Khan seeking their contribution to spread the awareness on cleanliness thereby transforming  Swachh Bharath into a people's movement.
Inspired by the ice bucket challenge, Modi has asked the celebs to nominate nine others so that chain keeps going.