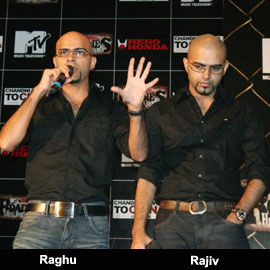 The talented identical twins Raghu Ram and Rajiv Lakshman have been a part of this industry for long now but they have never really got a chance to collaborate as a team on a solo creative project. The dynamic duo is now all set to launch their company, Monozygotic – a content and brand communications studio.
 Talking on the same, Rajiv says, "The company will be producing content on multiple platforms. This is all that I can share at the moment (smiles)."
 They believe this endeavour is the culmination of their two-decade long careers. "Monozygotic means identical twins," explains Raghu while Rajiv adds, "It's life coming full circle as the two of us finally join forces to form one entity."
 On the twins never getting together, Rajiv states, "We have worked together in different quarters most definitely but never as a team. It is surely going to be an exciting time when the two of us finally get together."
The studio will focus on content creation across mediums like television, digital and on-ground and offer brand consultancy for clients across industries. The core of this enterprise is based on creating multi-media formats, optimising technology and creating consumer engagement.
Raghu Ram and Rajiv Lakshman are the makers of genre-defining TV shows like Roadies and Splitsvilla and popular show Masterchef India. The duo has also created new concepts in the digital content space through properties such as Roadies Battleground. They had also opened a high-street clothing brand, Hitched.
Raghu had participated in Indian Idol season1 and got rejected. He argued with the judges including Farah Khan who later gave the duo chance to act in her film Tees Maar Khan. Watch the video of Raghu's audition.
[youtube id="zThg2S7Nxns" align="center" mode="normal"]