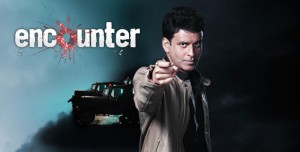 Encounter was an Indian crime television series, produced by Endemol India for Sony Entertainment Television and Sony Entertainment Television Asia. Its central plot was based on 35 encounters in Mumbai over 36 one-hour episodes. The show Encounter was  presented by bollywood film actor Manoj Bajpayee.
The series was based on reality based crimes, which was made to trace the encounters that took place in different places of India and those which were in media headlines for months and later everyone forgot.
Could not parse XML from YouTube
Premiered on 11 April 2014, the show aired tri-weekly on every Friday-Sunday at 9 PM IST, and was presented by Manoj Bajpayee. The series was to air its last episode on 4 July 2014, but Sony TV wrapped up the series quite haphazardly on 27 June 2014, and thus to fill up the prime time slot, the channel's tried and tested show, Crime Patrol has been brought in its place.