Crime Patrol Dastak
Crime Patrol is an Indian crime television series that presents dramatized version of crime cases that occurred in India. Crime Patrol is an Indian crime television series created, developed, written and directed by Subramanian S. lyer for Sony Entertainment Television India and Sony Entertainment Television Asia.
 Could not parse XML from YouTube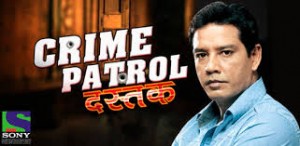 The series presents dramatized version of crime cases that occurred in India. The series was first premiered on May 9, 2003, and ran for 3 seasons. Currently, season 4 titled Crime Patrol Dastak is being aired and is hosted by Anoop Soni.
The motto of the show is "Crime never pays". According to host Anoop Soni, the basic idea behind such a reality show was to make viewers aware of the criminal activities occurring in their neighbourhoods and how they can protect themselves. It dramatizes real-life crime and events and details how the police went about solving the case.
Crime Patrol in its 4th season attempts to bring stories of crime happening all around the country. Crimes that tell us that we need to be careful, we need to be watchful. Crimes that tell us lives could have been saved. Every crime we hear of, either warns us to be careful or scares us, it could happen to us. Every crime ignites a feeling, It should not have happened. Would knowing the Why? behind a crime, help in stopping a crime from happening? I don't like the way he looks at me, I don't like the way he/she is behaving, I think he/she is out of his/her mind, I think he/she has gone crazy. That gaze, that quirky smile, that persistent stare which unnerves. It is difficult to understand the intentions but the hints are there. In a house a husband and wife argue, fight. A vessel comes flying, a glass breaks. Husband is angry and the wife is upset. That hatred, that ego. The distance that keeps growing. It is difficult to comprehend the damage, but the cracks are there. Feelings expressions. Misunderstood, unresolved callings of the heart. The cracks are there. Too wide to be missed. Yet when the heart takes over the mind, the outcome is a mindless tragedy. Crime Patrol – Dastak will attempt to look at the signs, the signals that are always there before these mindless crimes are committed. Instincts/Feelings/Signals that so often tell us that not everything is normal. May be, that signal/feeling/instinct is just not enough to believe it could result in a crime. Unfortunately after the crime is committed, those same signals come haunting.
Throughout the globe, Crime Patrol has been receiving mostly positive critical reception. Currently, Crime Patrol Dastak has been more popular than its previous seasons. However, it is criticized for its production and plot quality lately and faces stiff competition from fictional crime shows like CID.
Anup Soni, also Anoop Soni, is an Indian film and television actor. He is an alumnus of the National School of Drama.
Soni began his career with roles in television serials such as Sea Hawks and Saaya. He then took a break from television to work in films. He appeared in the 2002 films "Kharaashein: Scars From Riots", "Hum Pyar Tumhi Se Kar Baithe" as well as "Hathyar". In 2004 he appeared in Ashok Pandit's film "Sheen". But he returned to television to work on the serial CID – Special Bureau. He continues working both in films and television, his most recent work was the TV serial Virrudh and he is currently working in the hugely popular serial Balika Vadhu on Colors and Crime Patrol (TV series) on Sony. His performance in the serial has been appreciated a lot.