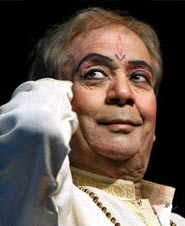 For me, Sitara Devi was a woman of strength who fought all odds to create a name for herself in the Kathak world. True to her name, she shone like a star and was the brightest among her siblings and contemporaries.

My association with her goes back to the time when she was learning Kathak from my father Achhan Maharaj and my uncles Lachhu and Shambu Maharaj. She was a constant figure during my growing up years and always respected the 'guru-shishya parampara'.

Even though she was elder to me, she always treated me with respect and love. We both shared great camaraderie and understanding that translated into a warm relationship spanning many decades.

I still remember how she would always make it a point to attend our festivals in Delhi. Last time she was here, she was on the walker, but never for a moment did she give an impression that she was sad or unhappy, or even tired. She always came across as a lively person who was brimming with love for life.

People like her are very few.

Her death has created an irreparable void in the Kathak world that very few people can fill. She had dedicated her entire life wholeheartedly to this profession by single-mindedly focusing on how she can improve the form that could easily be interpreted by the audience.

It wouldn't be wrong to say that she was born to excel in this field. Her two sisters too were dancers, but they never received this much fame. At a time when dancing was not considered an honourable profession for women, she defied the rules, challenged them and walked down the path she truly believed in.

Today, India has lost a 'sitara' (star) who and will be an iconic figure in Kathak world.