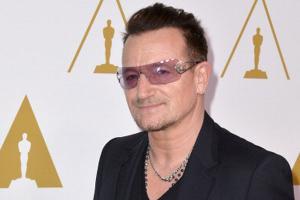 While opening up about the recent mid-air scare, Singer Bono says he is relieved that no one was injured.

Bono and his U2 bandmates were flying in a private plane from Dublin to Berlin to attend the Bambi Awards when the rear door of the aircraft fell off at about 15,000 feet above the German countryside. 

The 54-year-old opened up about the incident on the red carpet of Bambi Awards Thursday, reportsaceshowbiz.com. 

"The worry is where is the door, where are those bags? You know there may be a few cows or sheep in the German countryside with a very sore head. We trust that nobody was hurt because we would have heard by now and that was actually our first concern, cause we were fine," he said. 

He said there was a "kind of bang" 25 minutes before the plane reached the Berlin airport. 

"We thought we'd hit turbulence – maybe the wheel landing gear was coming down or something – but it was 25 minutes," the musician recalled. 

"The real relief was that the particular design meant that the plane did not decompress," he added.