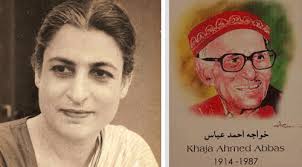 New Delhi, Oct 13 (IANS) A six-day drama festival here beginning Monday will pay tribute to two Urdu literary legends – Khwaja Ahmad Abbas and Begum Qudsia Zaidi – by staging stories written by them or based on their lives.

The Urdu Drama festival, in its 26th year, is celebrating the centenary year of the two writers and through these plays, seeks to highlight their contribution to Urdu writings.

The festival is organised by Delhi's department of art, culture and languages, in association with the Urdu Academy.

The festival will open with "Khayalat Ka Saudagar- Abbas", a play based on the life of Abbas. Popularly known as K.A.Abbas, he has directed many Bollywood movies and was a screenwriter for movies like "Awaara", "Shri 420a and "Mera Naam Joker".

Zaidi was a writer, social worker and theatre practitioner and is remembered for her pioneering role in establishing theatre in the capital.

"Zaidi led a very different movement by laying the roots of Indian theatre. It is a matter of pride for us that we are paying tribute to these two legends through this festival," said Anis Azmi, secretary, Urdu Academy, in a statement.

The first three days of the festival will be dedicated to Abbas, where as the last three days will revisit life and times of Zaidi.

The festival will conclude Oct 18.